Das Hotel verfügt über 41 geschmackvoll eingerichtete Zimmer, die perfekt mit unserer Anlage harmonieren.
Villa Picena sorgt mit seinen Räumlichkeiten und seinen Leistungen dafür, dass Sie sich wohl fühlen. Restaurant Ascoli Piceno .
Entstanden aus den Kellern der Villa aus dem neunzehnten Jahrhundert, elegant und schlicht eingerichtet.
Geschehen
Keine Veranstaltungen im Moment.
Events Archive
Ferragosto at Villa PICENA Friday, August 15, 2014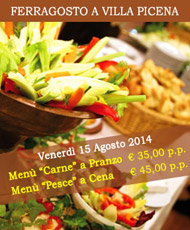 A LUNCH AND DINNER MENU 'MEAT AND FISH!
Friday, July 15, 2014 on the occasion of August, Picena Villa 2 offers tasty and varied menu for lunch and dinner expertly prepared with genuine products of the territory. We expect to spend an enjoyable day together full of taste and good food ... do not miss it!
COST OF LUNCH: € 35,00 per person
COST OF DINNER: € 45,00 per person
INFORMATION AND RESERVATIONS: (+39) 0736 892 460
Displays menus' of August
THE COLORS OF EXCELLENCE PICENA Wednesday, July 23, 2014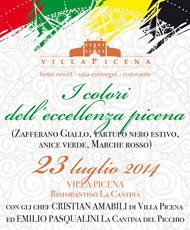 SAFFRON YELLOW - BLACK SUMMER TRUFFLE
ANISE GREEN - RED BRAND
Wednesday, July 23, 2014 Visit us at the restaurant "La Cantina" with Chef Cristian Lovely Villa Picena Pasqualini and Emilio La Cantina del Picchio for a special dinner with dishes made with quality products of the Piceno territory, accompanied by wines from the Marche of quality.
COST OF DINNER: € 50,00 per person
INFORMATION AND RESERVATIONS: (+39) 0736 892 460
SEE THE EVENT POSTER
AWARDS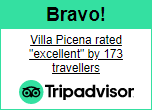 2017
ATTESTATO
DI ECCELLENZA
HotelsCombined
"Excellent choice"

"Beautiful Villa, Great Room, Wonderful People"

"Good and quite place"