The Hotel has 41 bedrooms, all furnished with style, perfectly in armony with all the building.
Villa Picena thanks to its rooms and its services, will make you feel like you are under the spotlight.
Built into the ancient cellars of our Villa, it is charming and stylish.
Restaurant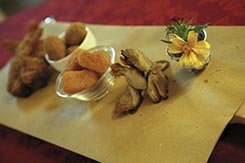 "La Cantina" restaurant, obtained by the cellars of Villa Picena, close to Ascoli Piceno, preserves the vaults, niches, the walls with bricks of this stunning Nineteenth-Century Villa and is furnished with style, with furniture and material perfectly mixed among them.
Strong point of the restaurant is its authentic cooking, able to propose the best traditional Italian and Regional plates, wisely made using only "0 km" products, that make every plate tasty, always able to satisfy all the tastes.
It is a typical location, warm and charming, that is delighted by the service offered by a professional staff that makes "La Cantina" one of the best Restaurant in the Province of Ascoli Piceno.
"La Cantina" restaurant is perfect for a business breakfast, a romantic dinner at the candle light and, why not, to be the set of your wedding, in one of the most beautiful areas in the Marche Region.
"La Cantina" restaurant is open every day, at lunch and dinner.
at lunch
Every day from Monday to Friday from 12.30 to 14.45


BUSINESS LUNCH:



Unlimited buffet + first course espresso plate
€ 15.00 per person



Unlimited buffet + second course espresso plate
€ 18.00 per person



Unlimited buffet + first and second course espresso:
€ 25.00 per person
"Daily specialties"
Monday:
Pasta ripiena
Thuesday:
Pasta e pesce
Wednesday:
Pasta e verdure
Thursday:
Gnocchi
Friday:
Baccalà

+ small Carte S.Q.
AT DINNER
From 19.30 to 22.45

Gran Carte:
S.Q.



+ tasting menù with fish:
€ 45,00



+ tasting seasonal menu:
€ 35,00
HOLIDAY LUNCH
All Sundays and Holiday Days


Menù for all the family:
€ 30,00 per person



Teen: € 15,00 per person



Children: FOR FREE

Appetizer typical from the Piceno:
tastes from our land
1 first courses, 1 second course with side dish – dessert – coffee and digestive – wine and water

SEASONAL MENU - WINTER 2020

Download the seasonal "Menù a la Carte" for winter in PDF. A wide choice of dishes prepared with fresh and genuine local products.
SUMMER GARDEN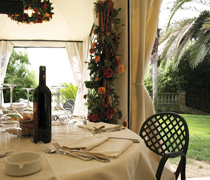 It is the garden of "La Cantina" restaurant, hosted into Villa Picena, in Colli del Tronto (AP): a marvelous corner of the garden, rich in trees and flowers, furnished with style and made once more striking thanks to lights and torches, wisely organized, that exalts the area.
The Summer Garden is the ideal scenario to have an outdoor dinner in summer, above all at the evening, plunged into a magic ambiance and brushed by the breeze of the Tronto river, that flows in the surroundings.
CHECK AVAILABILITY
Check out our Prices
and Book Now!
Book Now
AWARDS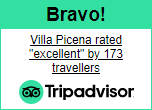 2017
ATTESTATO
DI ECCELLENZA
HotelsCombined
"Excellent choice"

"Beautiful Villa, Great Room, Wonderful People"

"Good and quite place"