The Hotel has 41 bedrooms, all furnished with style, perfectly in armony with all the building.
Villa Picena thanks to its rooms and its services, will make you feel like you are under the spotlight.
Built into the ancient cellars of our Villa, it is charming and stylish.
where we are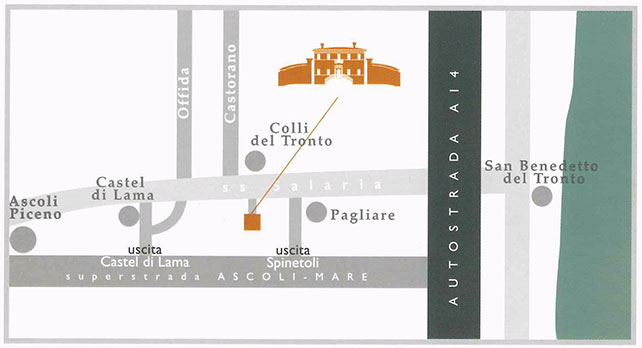 Villa Picena is in Colli del Tronto in Via Salaria,66, few kilometers far from the historical and charming Ascoli Piceno, and close to the A14 highway exit in San Benedetto del Tronto.
HOW TO REACH US
FROM THE NORTH AND THE SOUTH:
- A14 higway, San Benedetto del Tronto exit
FROM RomE:
- A24 highway, Rome/L'Aquila/Teramo linking the A14 highway, Giulianova exit Salaria Consular Roman Street
BY PLANE:
- "R. Sanzio" Airport, Falconara, Ancona
- "P. Liberi" International Airport of Abruzzo, Pescara
- Rome Airports
FROM THE SEA:
- Seaport of Ancona, connections with Croatia, Greece, Turkey, Israel
BY BUS: START, connections with Rome and the Marche
CHECK AVAILABILITY
Check out our Prices
and Book Now!
Book Now
AWARDS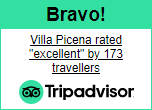 2017
ATTESTATO
DI ECCELLENZA
HotelsCombined
"Excellent choice"

"Beautiful Villa, Great Room, Wonderful People"

"Good and quite place"